In the plain of Saïss, on the edge of the Middle Atlas, the region of Fez is an invitation to discovery. The great diversity of landscapes, green valleys, cedar forests, hot springs, mountains with yellow ocher are all opportunities for varied and exotic excursions.
Moulay Yacoub
Located 20 km west of Fez, in a green spring, this spa is known for its hot sulfur water and who treat rheumatism and diseases. The baths also offer pleasant fitness programs. This popular resort has always welcomed by the Moroccans already in the 30's André Gide and Henry de Montherlant.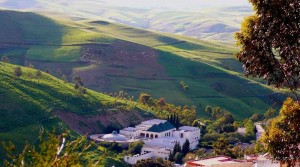 Sidi Harazem
15 km from Fez, this hot spring has been known since the sixteenth century for its therapeutic properties. These waters provide their benefits in the comfort of a modern spa. Between drinks, go near the white Koubba of Sidi Harazem. Amid eucalyptus, palms and oleanders, we can see an ancient sacred pool covered

with a dome.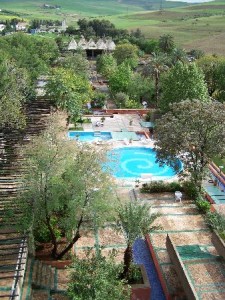 Sefrou
Sefrou Berber is a small town 30 km south of Fez, popular for its waterfalls and the diversity of its landscapes. important agricultural center, is famous for his "Cherry Festival" in June. A few kilometers, by a road that climbs among olive trees, we arrive at Bhalil, famous for its cave dwellings.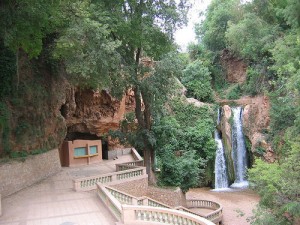 Imouzzer  Kandar
About thirty kilometers from Fez, Imouzzer Kandar is a charming little town perched at 1300 meters, the mild climate in the summer. A true haven of tranquility. The area is known for fruit trees: apple, walnut, figiuers … The surroundings invite to beautiful trips. We practice the trout fishing and mushroom picking.