Founded in 789 by Moulay Idriss 1st, Fez is the oldest of the imperial cities of Morocco.
Located halfway between the north and the south, in a fertile plain watered by the mountains of the Middle Atlas, Fez, whose name means "pick" (according to a legend that might have found a pickaxe the location of the first foundations) is divided into three distinct parts:
Fes el Bali, Fes el Jadid, and new town in 1920, which contrasts with the two older neighborhoods both gathered inside grandiose walls.
religious and cultural capital of Morocco, it reflects the Andalusian influence both in music, cooking, the art of living in the architecture.
Fez has very nice monuments
The museum of the Astrolabe
Bab Mahrouk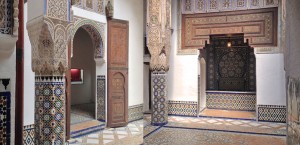 The Fondouk Nejjarine: Important building built in the seventeenth century, the monumental gate is unique in its structure, shape and decorative elements (cedar wood, elegant arches). Madrasa Buinaniya: high in 1356 by Sultan Abu Inan, reached an exceptional architectural and decorative refinement. The oriental-style is distinguished from all others.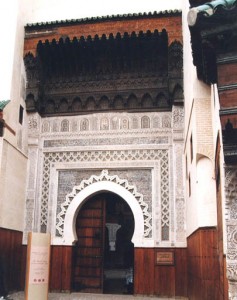 The city has a total of 3,500 fountains which 64 monumental public fountains, often master-work of decorative art. In addition, numerous palaces, mosques, homes or gardens feature antique fountains.
All the traditional houses are not palaces, but all contribute to the richness of the Medina and should be considered as both a residence and as a historical heritage.