It is by participating in many events scheduled in the year (festivals, concerts, conferences, moussems …) and via the various circuits of the medina that you can measure the cultural wealth of the medieval city. From its location at the crossroads of cultures and civilizations, and strong in its history by crossing Moorish influences, Fes was the calibration of a diverse culture in all fields: architecture, philosophy and the practice of faith, crafts, food, music, science …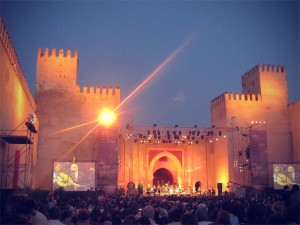 Built in 789 by Idriss I, Fez is the oldest medieval cities of the Muslim world and is today one of the largest medinas among the best preserved in the world. More than 9000 winding streets that make up the urban plan unchanged since the twelfth century where daily life continues to be punctuated by the ceaseless activity of the artisans ….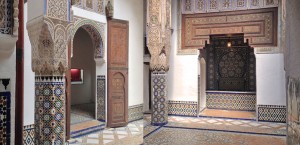 With the construction of the mosque al-Qarawiyyîn (to 857) _ before _ Paris and Oxford Morocco, thanks to Fez, experiencing unprecedented intellectual and artistic life. Fez is gradually transformed into a place of cultural reference that attracts men of letters, thinkers (Ibn Khaldun, Ibn Battuta, Ibn Khatib and Ibn Arabi, Averroes, Maimonides …), then the Moorish reflux, artists and craftsmen from both of Andalusia (hence the Andalusian district) as Kairouan, Tunisia (where the district Qaraouiyine), and advised merchants, Jews, Muslims and Christians.
Fez is also known worldwide for the many events that are scheduled each year: the reputation of the Festival of World Sacred Music is more to do … the Culinary Art Festival, the Festival of Sufi brotherhoods, the international conferences …