Fez has a varied and very old craft tradition. The first inhabitants of the city, whether or Andalusian Kairouan, brought a never denied knowledge …
Today thirty thousand artisans exercising their talent within the medina of Fez el-Bali. Potters and ceramists (zelliges) made the reputation of the city. Do not miss also, the tanneries, living memory of an ancient technique …
The art of bronze produced in Morocco in the first half of the twelfth century, remarkable works reveal the birth of the Moorish bronze work.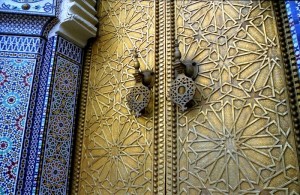 The famous bronze doors lined almoravides of the Great Mosque al-Qaraouiyin -Bâb Sbitriyn, Bab Ganaîz and Bab Al-Ward-are considered the monumental works of the oldest medieval bronze work of the Muslim West. They were carried out during the Almoravid expansion of the sanctuary, between 528 (AH) / 1134 (AD) and 538 (AH) / 1144 (AD). The museum Batha Fes boasts some specimens deposited successively in 1954 and 1958. (Cambazard-Amahan 1989, 73-95).
The structure of these works reveals, on the inside a frame made of a framework of beams and projecting cross, studded hinges that consolidate five branches wrought iron floral endings. The outer surface is coated molded bronze plates and chopped, the covered joints of a molded rod of barley grain.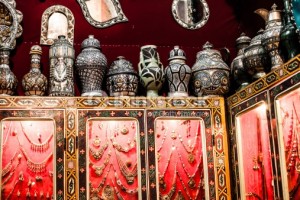 It is divided into ornamental cross registers corresponding to the frame: the stage is thus determined by the structure. Each register, delimited head nails gadrooned, implements a specific ornamentation.